Biographies

>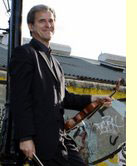 PAUL BARRITT is permanent guest leader of the Hallé Orchestra and previously led the English Chamber Orchestra and the Northern Sinfonia with which he regularly appeared as concerto soloist. Notable tours to France, Germany, Norway, Italy, Spain and the Caribbean as well as in London and across Great Britain and Ireland have achieved outstanding success.
In 1998 he was soloist and director of a tour to Sri Lanka, to mark the 50th anniversary of Sri Lanka's independence and also directed Isaac Stern's 75th Birthday Concert at the Barbican and played Arvo Pärt's Fratres at the same hall in the presence of the composer. In 2001 he played the Bach Double Violin Concerto with Maxim Vengerov at the London Proms, and in Germany, Spain and Switzerland with the English Chamber Orchestra. Paul directed the ECO on a major tour of England, Switzerland and Japan with the pianist Radu Lupu in October 2001. In October 2006 he took part as soloist in a performance of Bach's Brandenburg Concerto No 5 with pianist Angela Hewitt and the Hallé Orchestra. Similar collaborations in this field have been with the Strasbourg Philharmonic, L'Orchestre de Picardie, the Istanbul State Symphony, the Izmir State Symphony and the Bournemouth Symphony Orchestra, the Guildford Philharmonic and the Ulster Orchestra.
In 1999 he formed a violin piano duo with pianist James Lisney. Since the duo's first concerts at the Amsterdam Concertgebouw, and the Palau in Barcelona, they have given numerous recitals. Since 2003 the Duo has presented the ten Beethoven Violin Sonatas in Oxford, Bristol, London, Zurich and Galway. They recently recorded a 4-disc set of all of Beethoven's music for violin and piano (Woodhouse Editions) and will record the Brahms Violin Sonatas in July 2009.
Paul's discography also includes CDs of the violin works of Herbert Howells, John Ireland, Stanford, Albert Sammons, Rheinberger (Hyperion), Rózsa (Cloud 9), Schoeck (Guild).

Born into a musical London family, RACHEL ISSERLIS started playing at an early age and soon developed a great love for chamber music. She studied at the Royal College of Music with the Czechoslovakian violinist Jaroslav Vanacek, where she won prizes and an exhibition and continued her studies in Dusseldorf and Amsterdam with the former leader of the Concertgebouw Orchestra, Hermann Krebbers.
After a period as principal second violin in Kent Opera, conducted by Roger Norrington, she became the leader of English Touring Opera and also spent several summers leading the festival opera orchestra Musica nel Chiostro in Tuscany.
Whilst still studying, Rachel became interested in period instruments and worked with all the major English groups in this field, as well as the Amsterdam Baroque Orchestra. She is a founder member of the Orchestra of the Age of Enlightenment, with whom she has played as principal second violin at Glyndebourne and Covent Garden and worked under such conductors as Sir Simon Rattle, Sir Charles Mackerras and Iván Fischer. She performed Handel's Violin Sonatas for Irish television, recorded Locatelli's Trio Sonatas with Elizabeth Wallfisch on the Hyperion label and played for the BBC Radio 3 series The Early Music Show.
Rachel is a founder member of Divertimenti with whom she has enjoyed many years of concerts, broadcasts and recordings. She is also much in demand as a chamber musician in other European ensembles and is regularly invited to the International Musicians Seminar at Prussia Cove. With the Franciscus Quartet in Holland she appeared several times in the Concertgebouw and participated in an educational project on the Caribbean island of Curaçao.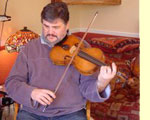 JONATHAN BARRITT studied at the Royal Northern College of Music with Atar Arad and Mischa Geller and was awarded all the major prizes for viola. He graduated with distinction in 1983 and was immediately offered a position with the English Chamber Orchestra where he was appointed co-principal viola in 1988. He was sponsored by the ECO Music Society for his London recital début at the Purcell Room, and he has since regularly played concertos with the orchestra.
As a very versatile artist, Jonathan has managed a varied career and is much in demand as a soloist and chamber musician both in the UK and abroad.
He has subsequently worked with most of the London Orchestras and has guest lead the London Symphony, Philharmonia, CBSO, London Mozart Players, BBC Symphony, BBC Scottish and BBC Welsh Symphony Orchestras viola sections.
From 1995 to 2001 Jonathan was a member of the Allegri String Quartet. During his time with the quartet he gave master classes in Oxford, Leeds, Southampton, and Durham Universities. Also at Dartington College of Arts, the Royal Scottish Academy of Music, the Royal Northern College of Music and Trinity College of Music.
He has worked with many chamber groups including Capricorn, Raphael, Gaudier and Primavera Ensembles and has given quartet concerts with William Pleeth and James Galway
Since leaving the Allegri Quartet he has returned to the English Chamber Orchestra as principal viola. He now divides his time between his teaching commitments at the Royal College of Music, and the Junior Department of the Royal Academy of Music and freelance chamber, solo and orchestral work.
He is also a Trustee of the Tertis Foundation, which promotes the heritage of Lionel Tertis, funding the Isle of Man Tertis Viola competition and education projects in the viola world.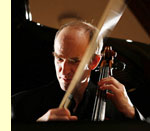 Born in London, SEBASTIAN COMBERTI studied in Italy with Amedeo Baldovino and later with Derek Simpson and Sidney Griller at the Royal Academy of Music, from where he graduated in 1977.
In 1976 he became a founder member of the Bochmann Quartet giving concerts throughout the British Isles and in Europe. In 1983 he became principal cello with the London Mozart Players, with whom he has appeared frequently as soloist, as well as being an active member of the LMP Chamber Ensemble.
A keen interest in historically-informed performance has resulted in participation with a great many of London's period-instrument groups, frequently appearing as principal cello with the Orchestra of the Age of Enlightenment and soloist with The Hanover Band. Research into early cello repertoire led to several recitals being recorded by the BBC.
As soloist for CPO he has recorded 4 CDs of the Sinfonia Concertantes of JC Bach, while as a member of several chamber groups he has recorded for CRD, EMI, Harmonia Mundi, Hyperion, Meridian, Phoenix and RCA. In April 2001 Sebastian Comberti founded Cello Classics, a label devoted to recordings of rare repertoire and historical recordings, for which he has himself released CDs of hitherto unknown sonatas by Boccherini, quartets for 4 cellos, early 19th-century sonatas with fortepiano, and presently discs of sonatas by Stephen Paxton and concertos by Haydn and Zumsteeg.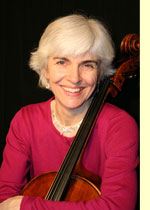 Born in London, JOSEPHINE HORDER studied at the Royal College of Music with Joan Dickson, then with Antonio Janigro in Salzburg and Johannes Goritzki in Dusseldorf. She was principal cello of both Kent Opera and Divertimenti, in its early days as a string orchestra. She is also an experienced chamber musician and has played with the George Caird Oboe Quartet, the Koenig Ensemble and the Raphael Ensemble as well as being an original founder member of the Schubert Ensemble. More recently, with the Adriano Quartet, she took part in concerts and workshops during a residency at the University of Newcastle upon Tyne.
In addition to her recordings with Divertimenti, Josephine's commercial recordings include a disc of the Mozart Flute Quartets (Collins Classics) hailed by BBC Radio 3's Record Review as their recommended version of this repertoire. Josephine also plays regularly with the Orchestra of the Age of Enlightenment, the London Mozart Players the Feinstein Ensemble and Glyndebourne on Tour. With Paul Barritt she is director of Tring Chamber Music, a summer season of chamber music in west Hertfordshire. She is on the management committee of the British branch of the European String Teachers Association.